This shop has been compensated by Collective Bias, Inc. and its advertiser. All opinions are mine alone.
#PlayWithPlaymobil #CollectiveBias
Being a mom, sometimes it's hard to find educational toys that are also fun for my son. Sure he has cars, building blocks, train tracks, and the more popular toys, but nothing that is close to educational. While I was searching for something fun, yet educational, I found
PLAYMOBIL
at Walmart.
PLAYMOBIL
playsets are designed with a child in mind. They are meant to spark imagination and induce fun with their strong attention to detail (think moveable parts, real eyes on people, etc) and help develop both cognitive and social/emotional skills. The
PLAYMOBIL
playsets also focus on a variety of worlds, both realistic and fantastical (think firemen and dinosaurs).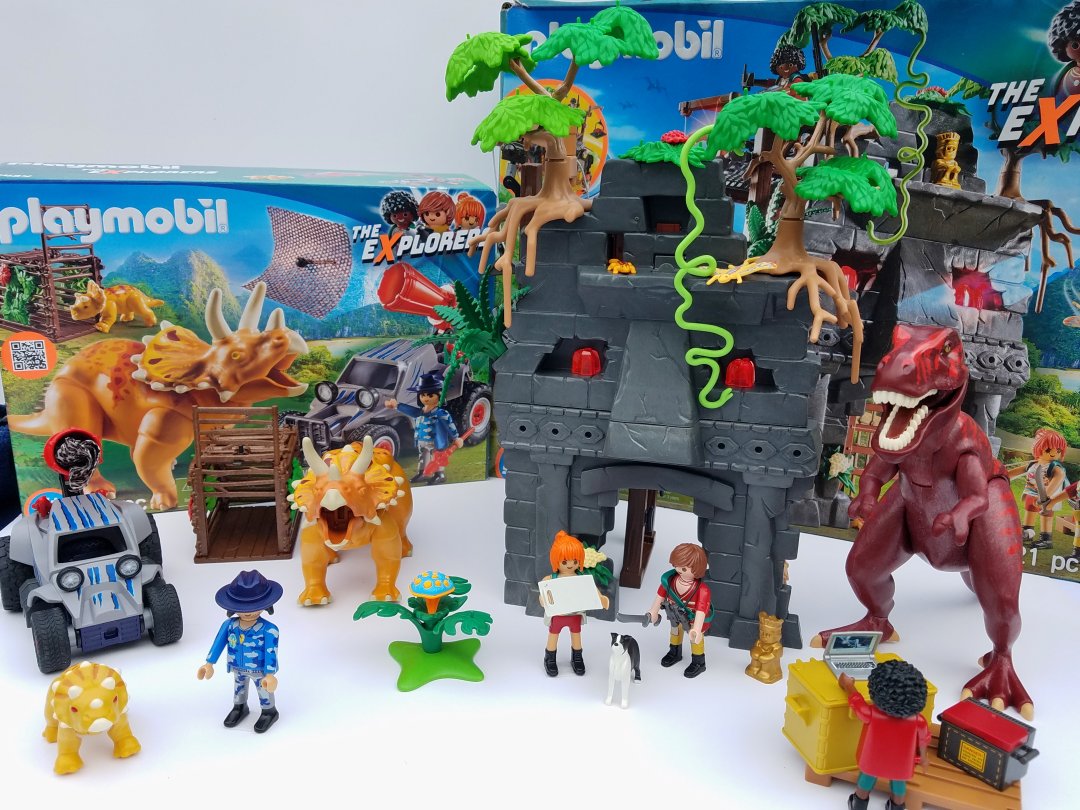 If you are interested in buying the product, hover over the photo
above
to click through to Walmart to shop!
Seeing as that the
PLAYMOBIL
playsets were perfect for my son, I bought the
PLAYMOBIL Explorers Hidden Temple with T-Rex playset
and the
PLAYMOBIL Explorers Enemy Quad with Triceratops,
because he has a thing with Dinos!
When we first brought our
PLAYMOBIL
playsets home, I knew I needed to find a way to make my son's imaginative and creative play educational. So after thinking,
I finally came up with 5 ways to make creative play educational
. The ways are naming colors, naming objects, asking what a certain part does, matching and helping build a playset, and cleaning up.
Naming colors
One of the most important educational aspects of
PLAYMOBIL
is that they are very detailed and colorful. In order to help your child with colors, have them name some of the colors on a playset. You can also have them compare the colors.
Naming objects
Naming certain objects is a great way to educate your child. If your playset has dinos, like mine, you could have your child name the type of dino, or if your playset has a firefighter, your child could name all of the different kinds of equipment that a firefighter uses.
Asking what a certain part does
Children are always creative in their play, and asking them what a certain part does is a great way to educate them. You could ask them what a lever does, how a gate opens, what you have to do to open a door, etc.
Matching and helping build a playset
One of the nice things about
PLAYMOBIL
is the fact that they have really detailed building instructions. To help your child with matching, show them a picture of a part and then ask them to find it/match it. Doing that will not only help your child with matching, but it will help them learn problem solving skills also.
Cleaning Up
Besides actually building a playset, the major part is cleaning up. To help your child with cleaning up, you can make it a game- "I can clean up faster than you can" or you can make the figures do the cleaning.
My family and I love to play with
PLAYMOBIL
products, because they are very educational in their own right. I also love shopping at Walmart, because they are like a one-stop-shop! They have everything. Walmart is great to get toys due to the price matching, if they don't have something in store, you can order it, they have the savings catcher app, and most of all, the prices are so good!
If you are interested, you can find
PLAYMOBIL
products at Walmart, in the toy section right next to the building blocks.
Check out
PLAYMOBIL
on social media to stay up to date on everything
PLAYMOBIL
! Their social media ->
Facebook: facebook.com/playmobilusa
Twitter: @playmobilusa
Instagram: @playmobile
Have you every played with a PLAYMOBIL playset? If not, what's stopping you?