What's up party peoples? Guess what day it is!
Via Maurices Facebook Page
Does anyone else think that this week has gone
way tooooo fast
? I do! This week has been a blast though!
1. On Monday I made some goals... I am proud to say that I have reached 2 out of the 5! (hey, I have two more days, right?)
A) I ate a meal that didn't come from a bag and included fries.... and it was lil man approved.
B) And... I got more than 5 hours of sleep every night this week! Which was so much better than 3-4 hours a night!
C) But... The goal for not procrastinating about my required reading and paper...

Via Pinterest
2. We went to the Apple Orchard on Tuesday! Even thou it was raining, we still had a lot of fun feeding the animals, and picking up some cheesy popcorn, apple butter, authentic 100% honey, apple cinnamon doughnuts, and pumpkin doughnuts! MMM!!! (It's a family tradition to go to the orchard every year, to get some apples and pumpkins, but this year is was raining and no one could take a family picture.)
3. Me and the hubby actually were able to go to grocery shopping kidless and this is what resulted...
Instead of buying them, we picked up one for lil man, and he loves it!
4. NEW CLOTHES!!!!
A) JC Penney was having a sale on their Joe Fresh V-necks.... (At $12, I couldn't pass up the amazing deal and picked up four- Grey (not pictured), Green, Nude, and Light Purple)
B) I love Silver Jeans, but ever since having lil man three years ago, I can't bring myself to pay over $80 bucks for some jeans (I don't care how amazing they are). But, thanks to Facebook, I was able to score some plus size Silver Suki Surplus jeans for $40!!
5. I broke down and finally pulled out lil man's Halloween jammies...
This week has been a really great one!! And for an added bonus, I found a really great wine!
Be.Flirty Pink Moscato- found at Wal-Mart
Yay! Awesome week!! So here's to another great one, since I'm linking up with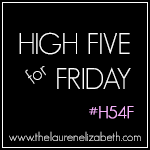 Lindsey @
Follow the Ruels
-And-
Please Note: If you are an avid reader, you have realized that there had been some design changes. Since my blog is relatively new (September), I have yet to find my niche in the bloggy world. Please bear with me, and I am sorta new to all of this :) And thank you for reading!!!