Hello Friday!!! Great to see you!!!
This week had been going great until today... I spent 45 minutes on the phone with my student loan lender, hung up, and burst into tears. Jerks.... Great start to November. I'm sorry, but if you're like me and had to take out private student loans to pay for your education, and didn't land that super awesome $100,000 a year job right after graduation, then you know what I am talking about. If you aren't one of those people, then imagine a loan shark coming after you every month, and you don't have the money to pay, so they break your knees (in my case, it's my credit) over and over again.
Anyway... Rant over and onto better things!
1. We painted our pumpkins on Monday, and lil man had so much fun! He decided to show it some love the next morning.
2. I finally got around to painting my lil owl pumpkin. Even though I didn't actually follow the tutorial, he turned out super cute, and his name is Percy (
I have seriously been watching too much Thomas the Train with lil man
).
3. I was introduced to Chapstick Mixstick Green apple and Carmel. MMM....
4. I finally found a nail color that I can actually stand on my fingernails... Essie Allure. It gives my nails a natural look. :)
5. Trick or Treating was a blast, even though it was a bit cold, and I,
well lil man
, made out with the candy.
Yay! Awesome week!! Well, except for today...
So here's to another great one, since I'm linking up with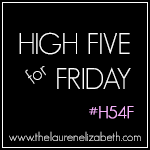 Lindsey @
Follow the Ruels
-And-